If you enjoy old world fairy tales and video slots, do check out the video slots with a fairy tale theme below that combine fantasy, fun, and winning!

Video slot machines have themes based on just about everything these days. With colourful and engaging graphics, they put old school slot machines to shame. Video slots with a fairy tale theme like Fairies Forest slot, Crystal Queen slot, or Dark Queen slot offer magical creatures, princesses, scary monsters, and fairies bringing you into their fantasy worlds and not only encourage you to not only have fun, but also provide great prizes for lucky players. Here are 5 online slots I am sure you will love to play at your preferred online casino.

Jack and the Beanstalk
There's a lot of green on this screen what with all of the vines and grassy areas. Hopefully, that will have a positive impact on how much 'green' goes in your wallet when you're done playing this video slots game with 20 paylines on five spinning reels. The game is brought to you by NetEnt and can be played for free if you so choose or up to €0.50 per spin. The game's maximum wager is €100.00. Winning combinations can be stacked among the five reels or all on one real with three winning symbols. Characters include a beat up old watering can, a Billy goat, and a pair of scary looking purple giants.

Pinocchio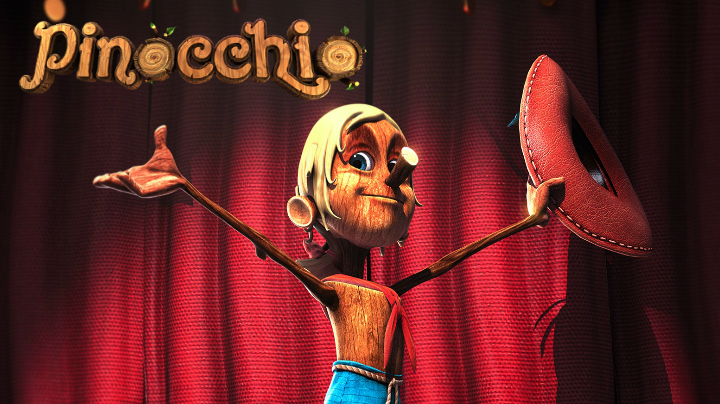 Three spinning reels are used in this novel based video slot machine that allows a maximum bet of €75.00, but also accepts bets as small as €0.01 per spin. The game is put out by BetSoft and can be played on desktops, smartphones, and tablets. After each winning spin, an additional gambling option is offered. Simply call heads or tails and if you call the coin toss correctly you can double your awards. If you bet five coins on every line and receive five Pinocchio icons, you can expect an impressive payout of 2500 credits. Pinocchio and Geppetto stand at each corner of the screen egging you on as you play.

Snow White and the Poison Apple
This is pretty much what you probably thought it would be, it gets its name, characters, and theme from the legendary fairy tale. A progressive jackpot is featured and the game contains 25 paylines, five spinning reels, and characters like dwarfs and an evil queen. This video slot machine by Genesis Gaming even features a mystical, magic mirror for the queen herself. Bets can go as high as €5.00 per spin or you can bet as little as €0.01 per spin. An added bonus is the winning of 10 free spins if you receive three scatter symbols during a spin. The graphics are colourful with snow white appearing as a brunette beauty and the dwarfs looking pretty much like you would expect them to look, complete with pointed hats and beards.

Hairway to Heaven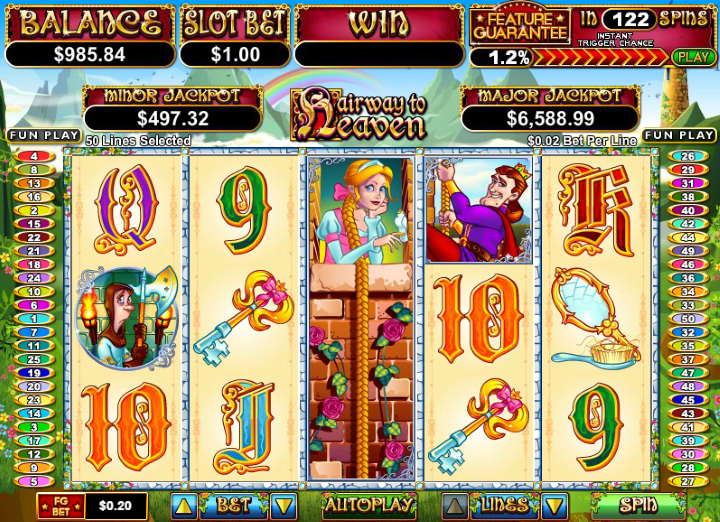 You wouldn't know it by the title but this video slot machine by RealTime Gaming (RTG) with randomly triggered major and minor progressive jackpots is based on the fairy tale about Rapunzel. An explanation of the games payouts is offered in a storybook-like setting which includes an explanation of scatter symbols (a prince icon) and what you can win with them, with as few as two scatter symbols. "Damsels in Distress" is the name of the bonus feature through which additional spins can be awarded. The proper combination of scatters unlocks the bonus feature. Rapunzel herself is a designated wild symbol which allows winning combinations by replacing some of the other symbols.

The Forgotten Land of Lemuria
While not a fairy tale that is familiar to most of us, this video slots game designed by Genesis Gaming has all of the required fairy tale characteristics including a mystical lotus flower, crystal skull, white witch, glowing crystals, beautiful waterfalls, and a castle. The fantasy land offers up an amazing landscape as background for the five spinning reels and reportedly 1024 ways to win. The fantasy theme is further encouraged by the game's special sound effects. Anywhere from 1 to 10 coins can be wagered per spin (which equates to a minimum bet of €0.01 or maximum of €0.50). An enjoyable bonus game can be won with the correct combination of wild, scatter symbols and the maximum prize awarded is 15,000 points.