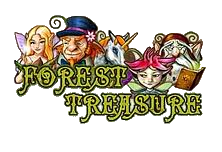 We are sure that you will enjoy one of the games that players really love to play these days: Forest Treasure.
This is an interesting and fast-paced five-reel slot game with numerous bonus options. The reels contain a variety of colorful magical characters such as magical trees, forest fairies, pixies and gods. You will enjoy the fact that if you play good enough, you can win maximum jackpot of a whooping $12,500!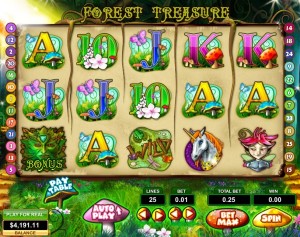 You will love Forest Treasure from the start with its mystic and magical atmosphere, and the companion of its powerful characters: its forest gods, fairies, unicorns, leprechauns, and others – just play and see. Creators of the game have even taken the time to beautify the letters with flowers and insects.
Game includes options for the full scale, automatic spins and sound quick buttons.
Game Features
During the game, you want to find mini animals and beasts because these can transform into any other icon when in combo with regular bonus and scatter standings.
You will be awarded from 10 to 40 free spins if you get at least four forest god icons in a round; you will win bonus free spins if you get 3 god icons in one round while you are playing these 10 to 40 free spins.
If you get three or more icons of enchanted bearded man you will get bonus round called Enchanted Forest. In the enchanted forest you are supposed to find unicorn among the five lineups of variety of enchanted icons: first there will be round of closed lilies, then there will be round of closed pockets, then mushrooms, then potions and finally bushes. If you manage to find unicorn during these five rounds, you will receive an award of up to 22.400 bonus credits. The number of the credits you win will depend on the round in which you have found the unicorn.
Forest Treasure Overview
This is just another successful game in a line of several forest themed Top Games creations. It looks like they are applying the method of going for the safe winning solutions for as long as they work. We shall not complain it as long they invest time and creativity into creating such compelling graphics and icons that are visually appealing and interesting as in this forest game.